So I came across this website called
Darby smart
(click on link to check out this website. Its a website for you to order anything that you want to D.I.Y. I was browsing and I came across this
Calligraphy kit
for $19.99. However, I signed up for their e-mail so I got 10$ off, so I only paid $9.99 and free shipping. i was like, why not, I love calligraphy so I could learn it and write my invitations with my new skill :P
got here about 3 days! super fasT
here's what came in the box, ink, nib cleaner, and silver ink for writing on color papers, pen and different nibs and a booklet teaching basic fonts.
so last night I started practicing. honestly, it sucked. It was weird getting used to having to slow down my writing and dip into the ink and then learning the strokes.
then this is playing with different nib and writing in old english. i think it looked ok for a beginner. Obviously calligraphy doesn't come instant.
However, it peaked my interest and I started researching on calligraphy and such. I started reading blogs and whatnot and today I went to Hobby Lobby (because I didn't want to order another kit of nibs online) and got me some different nibs. After standing at the aisle for a good 20 minutes reading reviews I picked a pack for thin nibs (sketch nibs?) for like $3.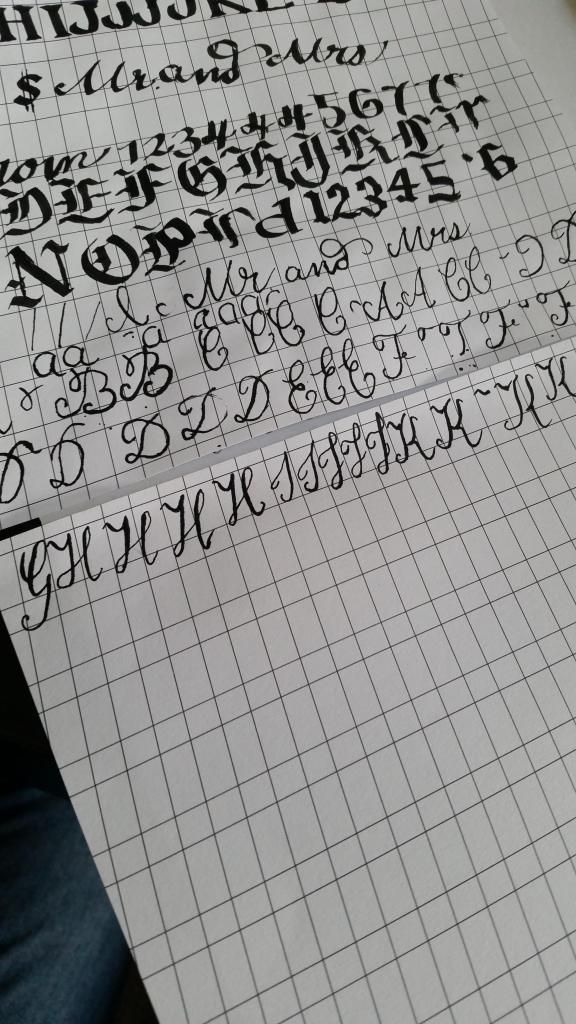 and more practice. these nibs are the ones I wanted. They write like the modern calligraphy that I was looking for, and again, I need more practice but they look much better already!!
can't wait to use this for invitations and such.