Blog update! yay! So this month I got my Ipsy bag and Birchbox at the same time. Funny thing is I cancelled my Birchbox for this month but they sent one to me saying that I had enough points for a free box. Weird thing is... I never purchased any products. But no complains! :P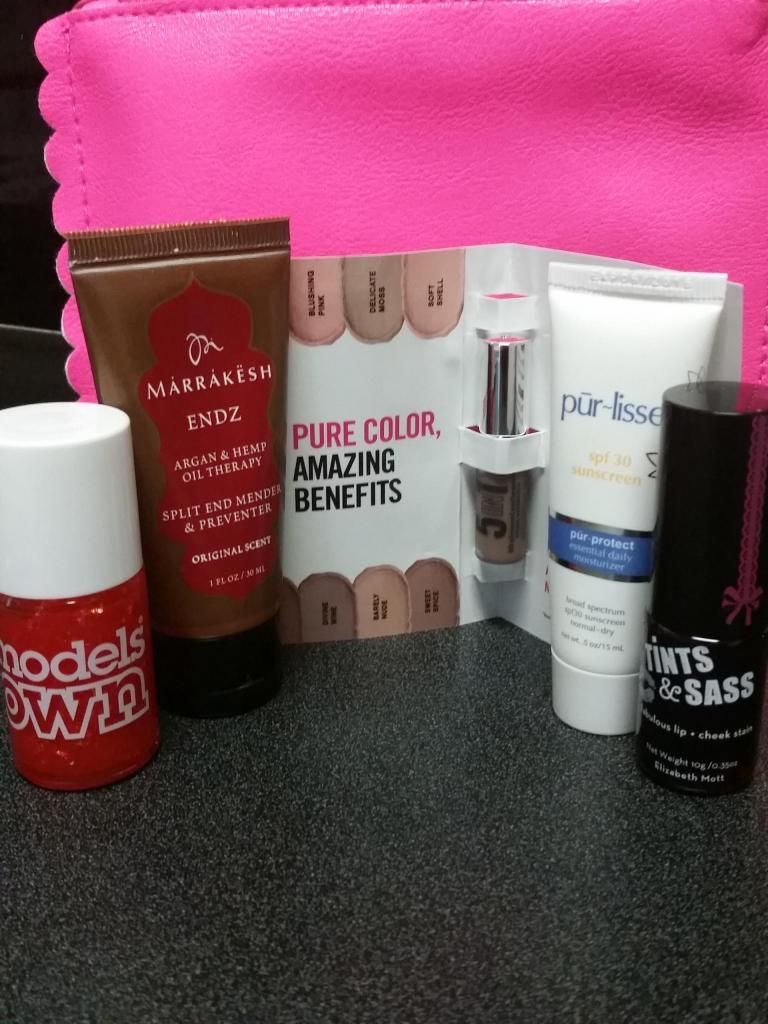 Ipsy Bag!
Model's Own nail polish- I dont think I like the color at all. It kind of looks like hot sauce lol. I may or may not try it. But it is a full size item so that's a win!
Marrakesh Ends-Argan & Hemp oil therapy- This is pretty cool. it says you can use it on dry or wet hair and rub it onto the ends of your hair. I should try this next time I wash my hair. I have some split ends but good thing they are mostly gone now. I am always up for a hair product!
Pure color- 5 in one BB cream=- It says it matches all these tones. BB cream is awesome but it depends on the brand. It doesn't provide that much coverage but I am willing to try it. Since I am so tanned now, I want to see if it'll still match my skin color! This will be another blog post.
Pur-lissed daily broad spectrum lotion sunscreen. I have gotten this product in every single Birchbox..and now I am getting it from Ipsy too. Not that I don't like the product, but I do want to try different things. On the up side, it is a travel size instead of the mini trial size that BirchBox gives.
Tints & Sass- tinted lip stain and blush. I tried this last night going to work. I had to dab some out because it was red. But I really like this almost more than the one from Benefit. The color is bright so if I want to try as blush it'll have to be built up slwoly.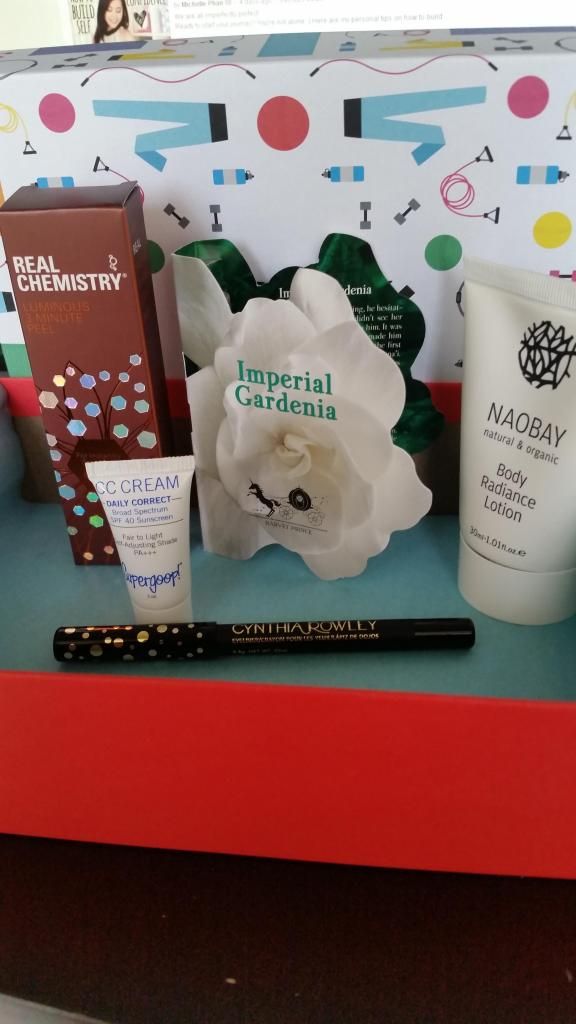 Real chemistry Facial peel- I think the only peel I've gotten is the ones I got from Walmart so I am excited to try this!
Imperial Gardenia- This perfume smells sooo goood!!! Its soft and floral and just overall a very pleasant smell. (i really don't know how to describe a smell, especially for perfume).
Naobay-Body radiance Lotion- Another lotion that I get from Birchbox.. this lotion does NOT smell good at all. And the lotion itself is just okay. Kind of disappointed.
CC Cream- I think this is another one of the sunscreen lotion thing for your face. Again, another product that I've gotten before.
Cynthia rowlly black eye liner: I like the eyeliners that Birchbox has sent me so far, and I have so many black eyeliners now I don't think i'll ever need to go buy another one! lol
So that's it! that's what I got from my Ipsy bag and birchbox! What did you all get??
Oh and I was watching this Youtube video on this girl who does like makeup and hair and stuff. I love NYX and I've been hearing and seeing a lot about NYX lose pigmented eyeshadows. Her video is good for that.