The weather is super awesome this weekend, it is up to the high 70's and I am bringing out my first ever jean shorts that I got from
American Eagle
. Their shorts are super comfy and come in different styles. I have never worn jean shorts because I am self-conscious about my legs due to past personal history, but today I am stepping out and wearing them with my new yellow blouse that I purchased from this month's Stitch Fix. :D Also wearing my new mint leather wedges from Francesca's.
Anyways, Booboo bear and I were supposed to go look @ houses but after driving to 3 different location that I found, we didn't even get out of the car to see the model homes.
He took my sunglasses lol. He could be my gay friend :P
==================================================
I got my April Birch box, and here are the stuff that came in the box!
Yogini Perfume sample by Harvey Prince (left).Sandalwood smell with natural oils. Smells calming (if that makes any sense lol).
Then N. 4 high performance hair care: Lumiere d'hiver Clarifying Shampoo. I am always up to try new shampoo and find the best one for my hair because it is thicker and easy to break. Also my scalp is dry and right now I am use Suave Morocco oil shampoo and its not too bad.
I am always up for snacks to eat at work.
Another N. 4 sample. This is the Reconstructing Masque. I love masks and always up for new product to try. My T-zone is dry so any moisturizing masks would be great.
This creamy off-white nail polish is great for the spring and summer.
And can't go wrong to have another eyeliner ;)
Do you have Birch Box subscription? I love receiving samples and know what is out there that I don't know. There are so many brands out there and it's always good to explore and find which products are good for you.
===============================================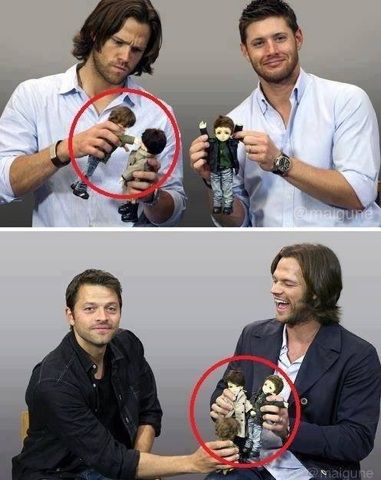 Sam , Dean and Castiel are playing with their dolls lol. Love them.